530EA Series
The thin tipped 530EA-US series are anti-shock and cut leads to predetermined length. The tip width is .050"(1.25mm). The cut-off can be modified to customer's specifications. They feature dual leaf springs for smooth action.
MOLDED Grips - ESD safe (10⁸ ohms/sq.)

Please Note: if items are Out of Stock they should ship within 8-10 weeks of order placement.
Your credit card will be charged upon placing your order.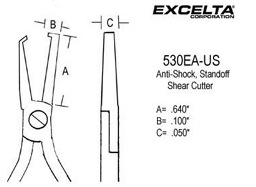 Item
Precision Level
Max Cut Capacity
OAL
Unit
Purchase

Cutter -*****- Shear - 5" Carbon Steel Thin Tip w/

530EA-US-030

st@rst@rst@rst@rst@r<br>.030" (.75mm) Standoff
.025"<br>.63mm<br>22 AWG
5"<br>125mm<br><font color="#0d786f"><B>Molded Grip</font></B>

$133.720/EA

Cutter -*****- Shear - 5" Carbon Steel Thin Tip w/

530EA-US-040

st@rst@rst@rst@rst@r<br>.040" (1mm) Standoff
.025"<br>.63mm<br>22 AWG
5"<br>125mm<br><font color="#0d786f"><B>Molded Grip</font></B>

$133.720/EA

Cutter -*****- Shear - 5" Carbon Steel Thin Tip w/

530EA-US-050

st@rst@rst@rst@rst@r<br>.050" (1.25mm) Standoff
.025"<br>.63mm<br>22 AWG
5"<br>125mm<br><font color="#0d786f"><B>Molded Grip</font></B>

$133.720/EA

Cutter -*****- Shear - 5" Carbon Steel Thin Tip w/

530EA-US-060

st@rst@rst@rst@rst@r<br>.060" (1.50mm) Standoff
.025"<br>.63mm<br>22 AWG
5"<br>125mm<br><font color="#0d786f"><B>Molded Grip</font></B>

$133.720/EA

Cutter -*****- Shear - Custom Stand Off

530EA-US-CUSTOM

st@rst@rst@rst@rst@r<br>Specify Standoff
.025"<br>.63mm<br>22 AWG
5"<br>125mm<br><font color="#0d786f"><B>Molded Grip</font></B>

$133.720/EA
---
With Selected Items:
---