530E-5-USL Series
The narrow thin tipped 530E-5-USL series* anti-shock shear cutters reduce shock on delicate components and solder connections while leaving a defined lead length protruding from the board. The tip width is .090"(2.25mm). The "Stand-Off" keeps the cutting blade from cutting into the solder connections.
LONG Cushioned Grips - ESD safe (10¹⁰ ohms/sq).
Please Note: if items are Out of Stock they should ship within 8-10 weeks of order placement.
Your credit card will be charged upon placing your order.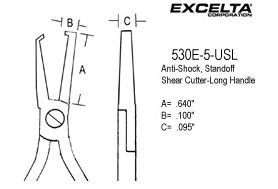 Item
Precision Level
Max Cut Capacity
OAL
Unit
Purchase

Cutter -*****- Shear - 6" Carbon Steel Thin Tip

530E-5-USL-030

st@rst@rst@rst@rst@r<br>.030" (.75mm) Standoff
.25"<br>.63mm<br>22 AWG
6"<br>150mm<br><B>Long Grips</font

$163.610/EA

Cutter -*****- Shear - 6" Carbon Steel Thin Tip

530E-5-USL-040

st@rst@rst@rst@rst@r<br>.040" (1mm) Standoff
.025"<br>.63mm<br>22 AWG
6"<br>150mm<br><B>Long Grips</font

$163.610/EA

Cutter -*****- Shear - 6" Carbon Steel Thin Tip

530E-5-USL-050

st@rst@rst@rst@rst@r<br>.050" (1.25mm) Standoff
.025"<br>.63mm<br>22 AWG
6"<br>150mm<br><B>Long Grips</font

$163.610/EA

Cutter -*****- Shear - 6" Carbon Steel Thin Tip

530E-5-USL-060

st@rst@rst@rst@rst@r<br>.060" (1.50mm) Standoff
.025"<br>.63mm<br>22 AWG
6"<br>150mm<br><B>Long Grips</font

$154.350/EA

Cutter -*****- Shear - 6" Custom Stand Off

530E-5-USL-CUSTOM

st@rst@rst@rst@rst@r<br>Specify Standoff
.025"<br>.63mm<br>22 AWG
6"<br>150mm<br><B>Long Grips</font

$163.610/EA
---
With Selected Items: