530E-15 Series
These adjustable anti-shock shear cutters have an adjustable nose to adjust the standoff from .040" to .250" (1mm to 6.25mm). The tip width is .235"(5.88mm). They feature dual leaf springs for smooth action. The 530E-15-US-RSS is the replacement slide for the 530E-15-US.
MOLDED Grips - ESD safe (10⁸ ohms/sq.)
Please Note: if items are Out of Stock they should ship within 8-10 weeks of order placement.
Your credit card will be charged upon placing your order.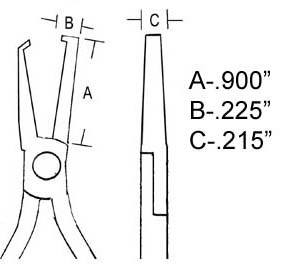 Item
Precision Level
Max Cut Capacity
OAL
Unit
Purchase

Cutter -*****- Shear - 6" Carbon Steel w/Adjustabl

530E-15-US

st@rst@rst@rst@rst@r
.025"<br>.63mm<br>22 AWG
6"<br>150mm<br><font color="#0d786f"><B>Molded Grip</font></B>

$257.910/EA

Cutter -*****- Replacement Slide and Screw

530E-15-US-RSS

st@rst@rst@rst@rst@r<br><b>Replacement Slide & Screw</b>

$49.470/EA
---
With Selected Items:
---